Happy Friday! As usual, I'm linking up with the Heather, Katie, and Clare for Five Things Friday! Check out their great blogs for the fun linkups!! As always, thank you ladies for hosting!
Random 5 today:
#1-Last Friday, I was featured on Dawn's Friday Five post on her blog-
My Pink Musings
. Each week she features a runner from across the country and has each person answer the below questions. You can check out my responses to her five questions
here
.
1. Why do I run?

2. What piece of gear would you not want to be without?

3. Favorite running shoes?

4. Music or no music?

5. Advice for new runners?

What would you answer to the Friday Five?
Pick one, two, or all and let me know in the comments!!
#2-Check out these awesome new Pinterest boards from Girls Gone Sporty. There is
one for fitness
and
one for food
. Girls Gone Sporty Ambassadors get to share their recipes and workouts...be sure to follow so you can check them out too!!
#3-Fitnessista published her ebook on blogging this week!! I downloaded my copy yesterday. I can't wait to dive in and really get into it. I have skimmed through and there is so much great information.
From Gina herself:
This eBook is for:
• Those who have been blogging consistently for a while, but find themselves at a crossroads for the "next step" with their blog.
• Those who want to figure out how to share their unique voice, story and knowledge (in any field!) to help others.
• Those who are interested in monetizing their blog, networking, and creating partnerships.
This eBook is NOT for:
• Those who don't have a blog and have no interest in starting one.
• Those who enjoy blogging occasionally for fun, and want to keep the professional aspect out of blogging (which is totally cool).
If you want to get your copy of "Build Up Your Blog," it's only $9 right now, and
it can be found here!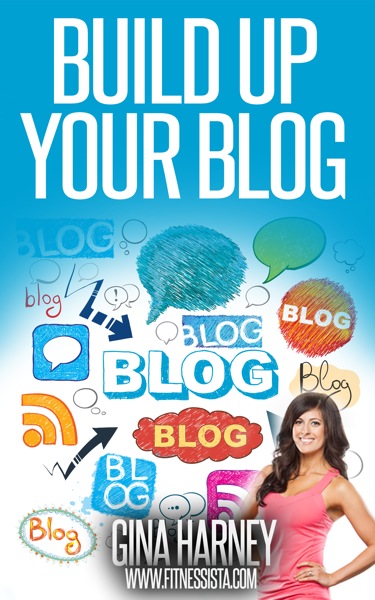 #4-I know I mentioned this earlier in the week, but I am really excited about my
Girls on the Run
team. We had our second practice on Thursday and it was just as fun!! I'm still working to learn all of their names, but their enthusiasm and spirit is totally inspiring!!
#5-speaking of girls on the run, I've been enjoying our beautiful start to fall weather by running. 60-70 degrees is ideal for me to run in shorts and a tank. I'm loving it!!
Any favorites this week??