Guess what day it is...
Hump DAAAYYY...also know as, What I Ate Wednesday. As I promised yesterday, I am doing a review of an amazing restaurant in Puerto Rico called
Marmalade
.
I'm linking up with
Jenn over at Peas and Crayons
for #WIAW. Pop over to her blog to see all of the delicious foods that other people are eating!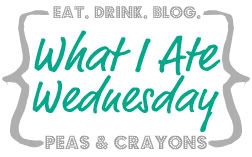 I can't say enough good things about Marmalade. From the minute we walked in the door, we felt special and welcomed. We arrived and the hostess took us to this adorable table with rose petals scattered all over the table. Everyone we encountered told us congratulations! The chef, Peter Schintler, came out and spoke to each table as they were finishing up their dinner as well. It was great to meet a chef with passion for the food, culture, and customers!
We started with some cocktails while we looked over the impressive menu. I got a pineapple mojito which was out of this world. Not too sweet and the mint was perfectly muddled. Bobby got a Jimi Hendricks-mint and jalapenos with fresh cucumber juice, gin, and a squeeze of lime. Both cocktails were fantastic and set the tone for an amazing meal!
There are several options to choose from and we chose the 5 course meals with wine pairings. We both chose ceviche for our first course. The fish was fresh, the spice level was just right, and the citrus was a great mix of orange and lime. The ceviche came with basil tostones.
Bobby had the ahi tuna poke for his second course. The tuna was really flavorful and the watermelon paired perfectly! The rice chips were light and a great vehicle for the poke.
I had saffron paella bites for my second course. The sauce was smokey and I could have licked the plate clean!! I want to learn how to make paella!!
The third course is their signature dish. I would never have chosen this dish, but it was AMAZING!! White bean and truffle soup with pancetta flakes. It was warm and luscious. The velvety texture and indescribable flavor made for a fabulous soup! We could easily see why this was the signature dish.
We needed a little wine break between courses. The soup was so decadent that we wanted to soak it all up!
The forth course was the main course. Bobby had sea bass "served on a bed of green bamboo rice
tropical pineapple-ginger relish & fresh coconut water-lime emulsion". I had to look up the description of his meal. I was so enthralled with my amazing dish, that I totally didn't pay attention to what he ate. :) I had halibut cheeks that were served over lobster grits with a pea foam...OMG! It was the best thing that I have ever eaten!!
We were both stuffed at this point. Then they bring the dessert menu. Bobby had a Caramel Corn Creme Brulee. It was a caramel creme brulee garnished with caramel corn.
I had a warm banana and butterscotch bread pudding. I am somewhat obsessed with bread pudding desserts. I always choose it when it is an option on dessert menus. This one was absolutely what a bread pudding should be! I'm probably ruined for all other bread puddings.
I highly recommend Marmalade if you visit Puerto Rico. It is fairly expensive, but worth every penny!! I'm not exaggerating that it was the best restaurant meal that I have ever eaten!!
What is the best meal you have ever eaten?