Whew...working a 5 day work week is very exhausting!! I have been so spoiled by the short holiday weeks. I'm back to normal Friday posts and am linking up with
Heather
,
Katie
, and
Clare
for Friday Favorites!
Here are a few things that I have been loving lately.
#1-Reading my cookbooks
-it has been so fun to read through all of my cookbooks to find fun recipes to try for the
cookbook challenge
. I think I am going to try a rosemary and butter skillet cooked steak. I have done steak in a skillet, but it never turns out as delicious as I hope.
#2-Honest Company
-I tried out a few of their products because they offer a sample set for free. One thing to note-you have to sign up for a monthly bundle and then actually call to cancel if you don't want to keep the membership. They offer so many great products-diapers, bath and body products, and cleaning products-and they are all natural and safe!
#3-Volleyball is back!
We had a few weeks off for the holiday season. It felt good to get out and play on Wednesday night. It may be cold outside, but playing volleyball always makes me think of spring and summer.
#4-My new planner-
I got a new planner for Christmas. I have been using it to help organize blog posts and regular life activities. I am LOVING it!! Bobby got me
this one
from Target for fairly cheap and it is perfect for what I need.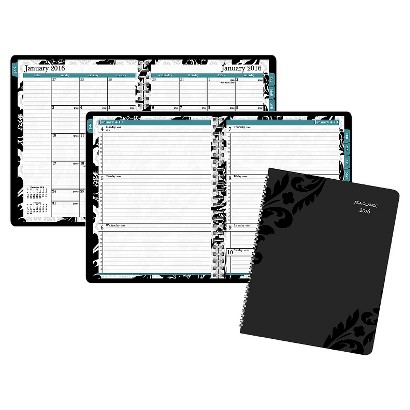 #5-Cleaning up the diet and exercise routine-
I love the holidays and all of the parties, treats, and family and friend time, but it is nice to get back into my normal routine. Cleaner eating, regular exercising, and more down time has been great! I know spring brings it's own busy time, so I try to enjoy when I have some free weekends.
What are you loving so far in 2015?